Our exclusive client portal provides complete and real time access to all aspects of your site's security. Whether you are interested in learning more about each guard serving you or you simply want an organized way to handle your security team, this platform is designed specifically with you in mind.
Your security team personalized
Access a profile for each security guard containing background and licensing information. You will even be able to see who is working in real time at each property you manage. We believe transparency creates the best partnerships.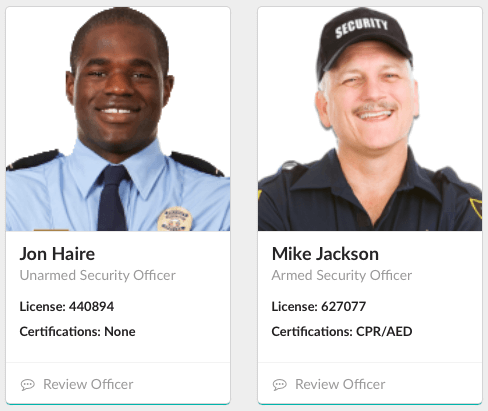 Manage your property with accuracy
Actionable reports can be sent to you in real time. All reports get stored and sorted however you choose. Loose nothing while knowing about everything.
Integrated technology
Our solution is exclusive to us and integrated into every aspect of our business. While the 3rd party solutions other guard companies offer can only alert you to issues, our solution provides actionable information both to you and to our security guards.

Resulting in our security team being more informed on a real time basis than any other security team.

Additional Features
Manage Unlimited Properties
Developed for all types of properties
View and Pay Invoices
Complete transparency and easy to manage pay methods
Access Upcoming Schedules
Know how we are planning to secure your property
Easy to Use
Access to both mobile and desktop solutions
No Setup or Support Fees
Always free with absolutely no hidden fees
All Data Hosted within the US
Always ask where others plan to store your security data
Robust Reporting Offerings
24/7 access to sortable reports
Mobile Access
Designed specifically for the on the go manager